Dubai, the bustling metropolis of the United Arab Emirates, is known for its towering skyscrapers, luxurious lifestyle, and cutting-edge infrastructure. This shining city also boasts some of the finest fitness facilities in the world. Whether you're a resident seeking a new workout haven or a tourist looking to stay fit during your visit, Dubai has a gym to suit every fitness enthusiast. Here's our pick of the top 5 gyms to visit in Dubai.
1. Warehouse Gym
True to its name, Warehouse Gym has an industrial feel, with graffiti-decked walls and innovative fitness equipment, transforming the typical workout session into a unique experience. Located in Al Quoz, this gym offers a wide range of classes, from CrossFit and boxing to spinning classes in a nightclub-like atmosphere.
Warehouse Gym attracts a diverse crowd, ranging from fitness newbies to seasoned bodybuilders. It is also one of the few gyms in Dubai that run regular fitness events, making it a buzzing hub of the local fitness community. The raw, energetic atmosphere of Warehouse Gym is sure to motivate you to push your boundaries.
2. Train SF
Train SF, located in Al Quoz, is a sprawling fitness facility that offers a modern take on the traditional gym. This gym's USP is its focus on functional training, promoting strength, agility, and flexibility. It's a hit among athletes and fitness enthusiasts seeking to improve their performance in specific sports or physical activities.
Train SF's state-of-the-art facility includes an outdoor running track, an obstacle course, and a vast indoor training area with top-notch equipment. The gym offers a variety of group classes and personal training sessions, providing a comprehensive workout experience that challenges both body and mind.
3. Fit Republik
Located in the heart of Sports City, Fit Republik is more than just a gym—it's a comprehensive fitness community. The sprawling complex boasts facilities for a wide array of physical activities, including an Olympic-sized swimming pool, a fully equipped gymnastics center, and a martial arts arena.
Fit Republik stands out for its wide range of classes, suitable for both adults and children. Whether you prefer high-intensity workouts, want to learn a new sport, or seek a family-friendly fitness environment, Fit Republik has you covered.
4. Gold's Gym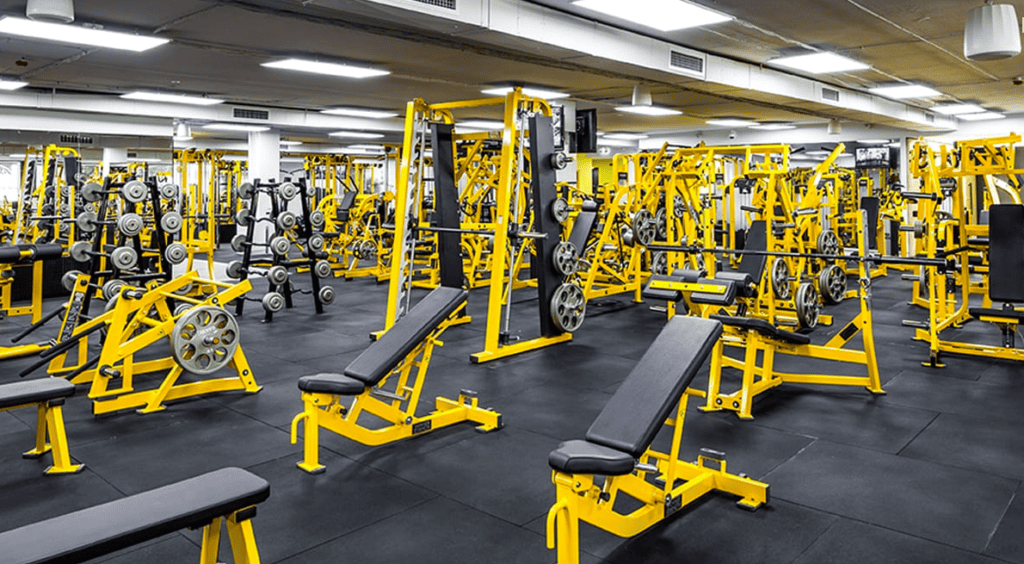 Gold's Gym, a globally recognized brand, has several branches throughout Dubai. This gym is loved for its consistency, top-quality equipment, and well-trained staff. From yoga and spinning classes to personal training services, Gold's Gym offers a plethora of options to its members.
The highlight of Gold's Gym is its comprehensive wellness approach. Apart from the workout sessions, the gym offers wellness consultations, body composition analysis, and nutritional advice, ensuring you achieve your fitness goals holistically.
5. Talise Fitness
Part of the Jumeirah Beach Hotel, Talise Fitness offers a luxurious fitness experience. The gym provides an incredible view of the Burj Al Arab, making your workout more enjoyable. Talise Fitness offers a wide range of facilities, including an outdoor training area, climbing wall, and a high-altitude suite.
Talise Fitness is known for its exceptional personal training services and group classes, including Zumba, yoga, and high-intensity interval training (HIIT). The gym's highlight is the Talise X, a first-of-its-kind functional outdoor workout area.
Each of these gyms offers a unique blend of facilities, training options, and atmosphere, ensuring that no matter what your fitness goals or preferences, you'll find a perfect fit in Dubai. Whether it's the raw energy of Warehouse Gym, the functional focus of Train SF, the community spirit of Fit Republik, the comprehensive wellness approach of Gold's Gym, or the luxurious experience of Talise Fitness, you're bound to find a gym that suits your needs.
Things to Note
It's important to note that these gyms also cater to different budget ranges. Warehouse Gym and Train SF are moderately priced and offer great value for money, given the range of their equipment and classes. Fit Republik and Gold's Gym fall in the mid-high price range, offering more specialized services and a more extensive range of facilities. Talise Fitness is a premium gym, with prices to match its luxury services and facilities.
Another key aspect to consider is the location. While all these gyms are conveniently located, it's essential to choose one that fits into your daily routine. For instance, if you live or work around Al Quoz, Warehouse Gym or Train SF would be ideal choices. If you're in Sports City, Fit Republik would be your best bet. Gold's Gym has various branches, making it accessible from different parts of the city, and if you're closer to the Jumeirah Beach Hotel, Talise Fitness would be the perfect choice.
The gyms also offer trial sessions, allowing you to experience their services before making a commitment. It's a great way to familiarize yourself with the facilities, trainers, classes, and overall atmosphere before deciding if it's the right fit for you.
Conclusion
To sum it up, Dubai's fitness scene is as diverse and dynamic as the city itself. From industrial-style spaces to luxurious fitness resorts, the city caters to every fitness enthusiast's taste and preference. These top five gyms are a testament to Dubai's commitment to offering varied, high-quality fitness solutions.
Remember, the best gym for you is the one where you feel motivated, supported, and excited to achieve your fitness goals. So, choose wisely, and here's to a healthier, fitter you in the glamorous city of Dubai!
Next, check out our post on Gravity Calisthenics Gym Dubai