It's no coincidence that Dubai is home to some of the most tanned and toned people in the UAE. The city is packed full of incredible gyms that attract athletes, influencers and revered trainers from far and wide.
With that in mind, we've picked out 5 gyms that you'll love. There's a little something in there for everyone, so the only issue you should have after reading this piece is which one to train at!
Top 5 Gyms in Dubai to Visit
Binous1 Gym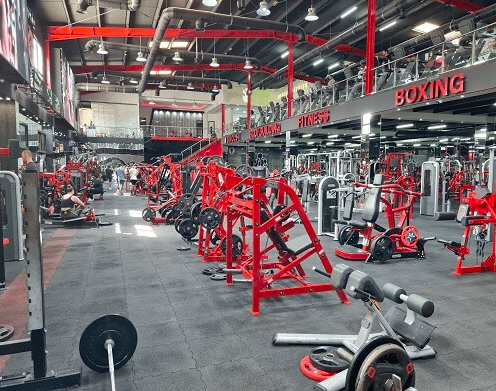 For most gyms, the main attraction is the equipment and workout space. And while Binous1 Gym is fully stocked with enough weights, machines and cables to make every part of your body tremble, it's arguably best known for the man who owns it.
Anis Binous is considered a legend in the fitness game. He built his reputation in his native Africa by coaching bodybuilders and powerlifters to major titles and is now widely considered the most exclusive personal trainer in Dubai.
Influencers and athletes such as Larry Wheels, Andrew Jacked and Andrei Deiu can frequently be seen pumping their sizeable guns in the Binous Gym mega facility. But it isn't just for the city's high-achievers and social elite. Plenty of regular gym bunnies pass through Binous1's doors every day to make use of the huge open-plan gym floor. 
There are also separate side rooms with punch bags, a boxing ring and yeah, you guessed it, even more equipment. If you were hitting legs, at any one time you may have more than 10 leg press machines to choose from, the place is that big.
Location: Al Rasaas Rd, Al Quoz
Fitness First Media City
Anyone who has followed us for a long time, you'll know it's no secret that we love Fitness First facilities. In fact, we even offer free day passes to a host of their sites to help our readers kickstart their fitness journeys. Fitness First Media City provides its members with the chance to enjoy a workout while unplugging themselves from the hustle and bustle of fast-paced city life. 
Working out with a view of the fantastic city skyline proves to be an excellent way to get rid of your daily stress at work. And that is exactly what Fitness First's Platinum club at Dubai Media City promises to provide.
Recently refurbished in 2015, the club boasts LIFE FITNESS line equipment – the first club in the Middle East to do so, two Group Exercise studios and the latest Synrgy 360 equipment. It also offers a luxury outdoor swimming pool alongside extra perks to help members with their nutrition and headspace.
Location: Business Central Towers A, Levels 7 & 8
UForm Fitness Dubai Marina
You may not have heard of UForm Fitness, and that's because they're officially the new kids on the block. After taking over all of the Gold's Gym branches across the UAE and Oman, UForm fitness has promised its members a lifestyle-changing experience.
The Dubai Marina gym spans 36,000 sq. ft and is located at the heart of Dubai Marina. Overseeing the stunning Marina boardwalk, just 100m away from Dubai Marina Mall, the club is all you need to smash your fitness and wellness goals. From strength & conditioning and group exercise to mixed martial arts and yoga, you'll find it all at UForm Fitness.
Location: Silverene Tower – Dubai Marina
Marina Fitness 72
If it's space you're after then Marina Fitness 72 has it in abundance. The monstrous facility is an athlete's dream. Combining a huge turfed section – perfect for Crossfit – with endless racks of top-of-the-range weights, machines and plyometrics equipment, the centre is ideal for those who like to mix up their training.
The gym was also a former favourite of straight-talking former kickboxer Andrew Tate. The controversial star was seen sparring there before his recent troubles with the law.
Members can also rent equipment and customise their own home gym. The facility is well worth seeing if you have the time, but if you need more time, why not bring the gym to you?
Location: Dubai Maritime City – Port Rashid
UFC Gym UAE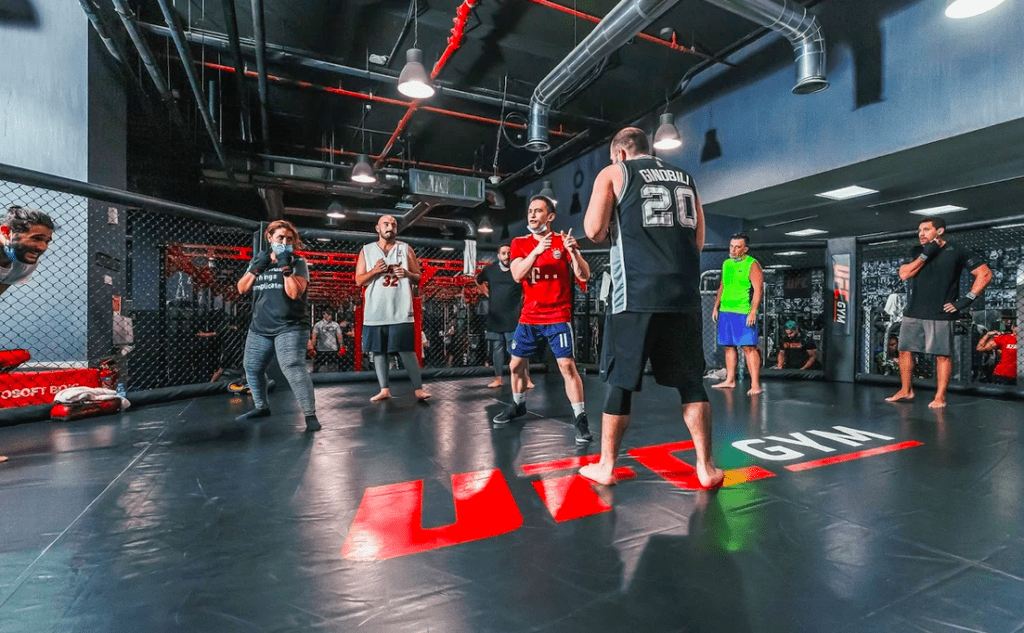 The self-proclaimed biggest, best and fastest growing, UFC Gym UAE is the place to be if you fancy yourself as a future world champion.
The UAE has become a second home for the UFC over recent months, so it's only right that the City of Gold plays host to 5 incredible facilities: Business Bay, Jumeirah Beach Residence, Mirdif, One Central and Silicon Central Mal.
UFC Gym was first founded in 2009 as the first major brand extension of the premium global sports brand and premier MMA organisation, UFC. A close partnership continues, ensuring cutting-edge training techniques are accessible through UFC Gym programming.
So, whether you're aiming to be the next Khabib Nurmagomedov or just simply want to keep fit, the gyms' dedicated Muay Thai, Kickboxing, Boxing and general fitness coaches will see you right.