As more and more influencers have flocked to Dubai, the city has become a hub for some of the best gyms and most revered trainers in the world, never mind the Middle East. Whether you're a bodybuilder or a gymnast – or perhaps you're into CrossFit – whatever it is, the City of Gold has a place you can call home. 
Top 3 MMA Gyms In Dubai
While the general fitness scene has continued to grow exponentially, the fight scene has too in equal measure. Dubai has welcomed the game's most notorious martial artists over the past few years as the Golf Tiger has established itself as a second home for the UFC.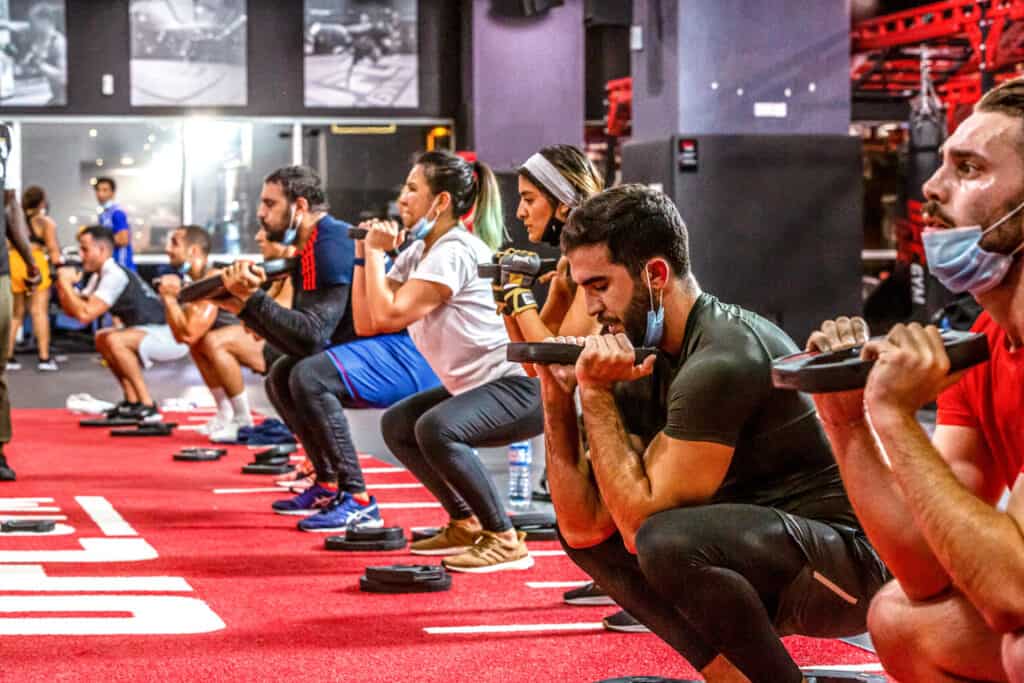 Much of that boom can be attributed to the rise of Fight Island. Born from a need for a workaround for travel restrictions brought on by the Covid-19 pandemic, Abu Dhabi's Yas Island played host to an array of high-calibre behind-closed-doors fights to keep the competition going during various lockdowns across 2020 and 2021. 
During that time, the UAE saw scores of epic bouts including Kamara Usman vs Jorge Masvidal, Israel Adesanya vs Paulo Costa, Khabib Nurmagomedov vs Justin Gaethje and Conor McGregor's second showdown against Dustin Poirier. 
Since the world has returned to relative normality, the Etihad Arena has maintained its status as a top fight venue. Just next month, a close friend to Khabib and rising star Islam Makhachev will fight it out with the current best 155-pounder on the planet, Charles Oliveira, in Abu Dhabi at UFC 280 for the lightweight championship.
With an array of top fighters heading for the Middle East, many of them stop off in Dubai for their training camps, which has led to a further rise in popularity of the sport. Khabib recently announced both he and Makhachev will be in the City of Gold 40 days before the highly-anticipated fight instead of preparing at his usual stomping ground – AKA gym in California.
And who can blame them? While one reason fighters come to the city is to acclimatise to the heat, another is because of the fantastic facilities it has to offer. So whether you're preparing for a top fight, or just feeling inspired to get started, let's take a look at some of the top gyms you can train at.
UFC Gym 
Since debuting in 2009, UFC GYM has opened more than 135 locations throughout the United States, Australia, Bahrain, Canada, Oman, Philippines, South America, Taiwan, Vietnam and the United Arab Emirates. In what has proved a major brand extension of the MMA organisation, it now has five locations in Dubai alone, and seven in total across the UAE. 
Offering a full range of functional fitness classes, group and private MMA training, group fitness, personal and group dynamic performance-based training, plus MMA youth programming, UFC GYM creates programs to fit all ages and fitness levels. UFC GYM's methods have been developed through exclusive access to the training regimens of internationally-acclaimed UFC athletes, providing members with everything they need for the entire family to move, get fit and live a healthy life. That access alone makes it a top gym if you're looking to master the fight game. 
Among its coaching staff is the Head of Brazilian Jiu-Jitsu, Raphael Barbosa. The Brazilian boasts a host of achievements from his time as a fighter, including a record of three MMA professional fight wins to one loss, two times Brazilian National Championships as a black belt and a silver medal at the Abu Dhabi World Pro Championship in 2019. 
Locations:
Dubai – Business Bay, P Floor – Building 1 Al Asayel St
Dubai – Jumeirah Beach Residence – Murjan 6 Jumeirah Beach Residence
Dubai – Mirdif – Hills Avenue – 78th St – Mirdif
Dubai – One Central, Dubai World
Dubai – Silicon Central Mall
Cost – A monthly membership costs AED 549. For more, visit UFC Gym's website.
Team Nogueira Dubai
Want to train at a gym with a real fighting heritage? Well, Team Nogueira may well be the one for you. The gym was founded in 2013 by Rafael Haubert, a Brazilian Jiu Jitsu instructor and competitor, and long-time friend of the Nogueira brothers. Rafael trained with Minotauro and Minotouro for two decades and developed a deep association with the fighters. 
A two-time World Champion and European Champion, Rafael retired from international competition to invest in this new entity with the same energy and passion that he puts on the mats. With the support and involvement of H.E. Sheikh Tariq Bin Faisal bin Khalid Al Qassimi, to whom he introduced the Nogueira brothers, he was able to bring the internationally recognised brand to the UAE.
Since then, it has created a legacy of champions with the likes of Anderson Silva, Mario Sperry, Renzo Gracie and many others passing through its door. Couple that with an array of top-level coaches with reems of experience in various forms of combat, and you know you're in safe hands.
While this gym is great for fighters looking to take the next step in their career, it also welcomes complete beginners, too. So don't be put off by the gym's star-studded alumni, soak it in!
Location – Al Ghurair Warehouse, Sheikh Zayed Road, EXIT 46, Al Quoz Industrial Area 3 
Cost – Team Nogueira Dubai runs a host of classes from fitness to combat, so memberships vary accordingly. For more, head to the gym's website.
MMA Fitness Centre
MMA Fitness Centre is a real one-stop-shop for anyone looking to get into combat sport, or simply just get in shape while learning some new disciplines and skills. With a motto of "believe, and you will achieve", the gym is all about your journey to unleashing your potential as a human being. Thus improving yourself, not only physically but both emotionally, mentally and spiritually. 
The official MMA Fitness Centre Fight Team has over five years of championship experience. They have competed and won on some of the world's biggest stages, including Dream, the Art of War, Cage Rage, Strikeforce, Abu Dhabi BJJ World Championship, the WBA Boxing World Championship, No-Gi World Championship and many more.
Covering over 20,000 sq. ft., the spacious gym provides more than 70 classes each week which span from Zumba and pilates to Muay Thai and, of course, MMA.
Location – Barsha Heights
Cost – There are various membership options, but a standard month-to-month deal costs AED 313.95 with a six-month minimum commitment.