Dubai is packed full of top-quality gyms and trainers which pull in professional athletes, bodybuilders and influencers from all over the world. But standing head and shoulders above them all is Binous1 Gym in Al Rasaas Rd, Al Quoz.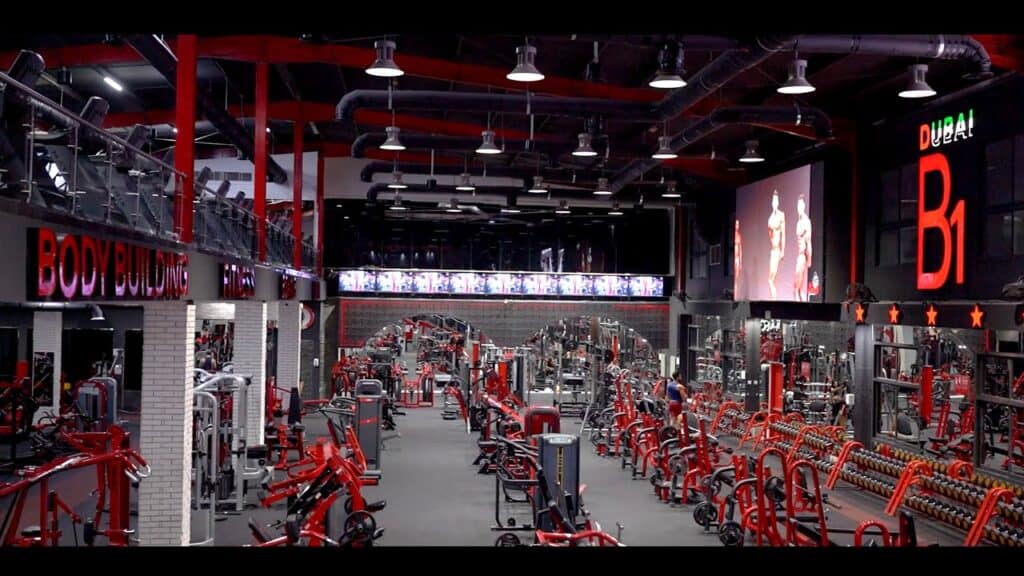 The self-proclaimed best gym in Dubai is home to anyone who is anyone in the City of Gold's fitness scene. But why is it so popular? We've taken a deep dive into the famous facility to find out.
Who Owns Binous1 Gym?
For most gyms, the main attraction is the equipment and workout space. And while we'll get onto the facilities at Binous, this spot is perhaps equally as famous because of the man who owns it. Anis Binous is considered a legend in the fitness game. He has been described as the 'most exclusive personal trainer in Dubai', and his price list certainly backs that up. Not only is he the toughest man to book a slot with, but he's also the priciest. 
Three months of one-on-one training with Anis will cost you 60,000 Dirham – equivalent to $15,000 to $20,000. Pretty crazy, right? 
But it hasn't always been that way, and Anis has undoubtedly put in the work to more than justify his eye-watering fees. The Tunisian tank competed successfully in national and international bodybuilding competitions during his time in his homeland. He also has more than 10 years of experience as a personal trainer under his belt. However, he admitted he didn't even charge his first few clients when he started out, only later realising the value of his expertise. 
During his time in Africa, Anis became revered for producing a long line of champions and medallists at various competitions, and he admitted during an interview with Larry Wheels that he felt compelled to be the best.
Having moved to Dubai in 2008, Anis started making his money through personal training at someone else's gym. "After one year in Dubai I wanted to be the best personal trainer, just as I was in Tunisia," he told Larry.
Once he'd got together a bit of cash he bought his own space, which he kept for nine years before moving into Binous. Since then, the gym has gone from strength to strength and it has continued to expand in tandem with its continued success. 
Not shy about his hefty price tag, Anis admitted he makes way more money training influencers and bodybuilders than he does running the gym, turning over more than one million Dirham each year.
But it isn't just his reputation which endears people to train with Anis, it's his personality, too. During a YouTube vlog of a brutal leg session with the man himself, American powerhouse Larry Wheels said: "He's always all smiles, so I can't wait to see how his demeanour changes when he's trying to kill me."
Giving the gym a glowing review, he added: "This is the best bodybuilding gym in Dubai and I've been coming here since the beginning of my Dubai journey. You (Anis) have been extremely hospitable to me, thank you. He lets us do just about as we please here, although, of course, we do it with respect. I love training here, I've been able to get everything I've needed to get done here – I have nothing but great things to say about this gym. Anis is also the most expensive and number one trainer in Dubai."
He continued: "Any influencers or bodybuilders in Dubai, this is the place they go to, this is the gym to visit if you're anyone in fitness. You've certainly worked up quite the reputation, the gym absolutely exceeds expectations. Anyone who visits and comes here always says that this is one of their best gyms if not the best they have been to."
Celebrities & Influencers Who Visit Binous1 Gym
To repeat the words of Larry Wheels, "This is the gym to visit if you're anyone in fitness", and he wasn't joking. Binous gym has an incredible list of subscribers which consists of some of the best influencers, bodybuilders and stars in the game. Besides Larry, the Al Quoz spot is also a popular choice for the Moroccan Hulk Aziz Jalali, Bavarian bodybuilder Joesthetics aka Jo Lindner, Romanian adonis Adrei Deiu and Kevin Levrone. Now that is a serious client list if ever I've seen one. 
While some of the celebs simply train at the gym and aren't necessarily clients, Anis still puts plenty of athletes through their paces. Andrew Jacked is one of those, and he recently scooped the biggest win of his career by taking gold in the 2022 Arnold Classic UK event – even though he admitted he wasn't at 100%. Anis welcomed the man-mountain back to Dubai with a welcome party at the gym and a big hug. That's love right there!
Binous1 Gym Facilities
As much as the gym owes its reputation to Anis alone, it can't simply survive on that – it has to have the facilities to match, too. And boy does it. You could easily mistake the gym for some sort of giant shopping complex if it weren't for all the toned and tanned specimens passing you by as you walk in. The ground floor consists of a huge open-plan space which is packed full of every rack, dumbbell and piece of equipment you could imagine, with huge screens playing motivational clips positioned in front of the bikes for people to watch as they work out. 
There are also separate side rooms with punch bags, a boxing ring and yeah, you guessed it, even more equipment. If you were hitting legs, at any one time you may have more than 10 leg press machines to choose from, the place is that big. There are plenty of clips on YouTube where you can see the true size of the place for yourself. It truly is bodybuilding heaven.
To find out more, visit the website.