Here at Gymfluencers, when we find something we love we like nothing more than sharing it with you. That's exactly why we're always raving about FitnessFirst. Wherever you are in the world, you'll always feel at home in a FitnessFirst facility. 
Its brand has become synonymous with trusted, no-nonsense spaces with modern equipment which allows you to get the job done. And that's important, right? Often entering a new gym feels like starting a new school. You're the slightly awkward kid getting lost on your way to class. 
So, if you're like me, you'll find solace in the fact that you're never too far away from the safe harbours of a FitnessFirst. Today, we'll be taking a look at the chain's Media City facility in Dubai. 
As the City of Gold's reputation grows as one of the main international fitness hubs, so does its network of gyms. But how does this gym compare, and should you choose it from the masses now available? Let's take a look.
Fitness First Media City Dubai Facilities
While you can add a bit of sparkle to any gym with a DJ, some neon lights and a few motivational signs, when you strip all of that back the most important thing is the equipment and facilities.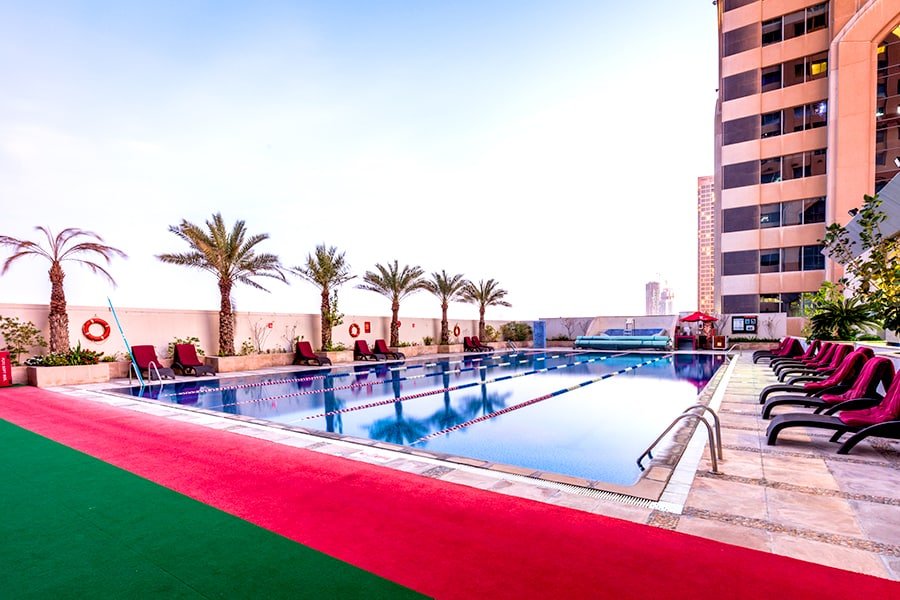 Having been recently refurbished in March 2015, this gym really does impress on that front. Whether you're looking to lift weights, take part in classes or even build up your cardio by doing a few lengths in the pool, FitnessFirst really does have it all.
Its specialised cardio area is crammed with state-of-the-art bikes, rowers and cross trainers, while the free weight area has more than enough plates and dumbbells to ensure you're not standing waiting – even at peak times. 
What's more, this gym has some really neat added extras which don't come as standard in many gyms. It has a group exercise studio, freestyle area, spin studio and outdoor training zone so you can soak up some of the Middle Eastern sunshine. 
If you're feeling brave you can also try out MYZONE, a new innovative heart rate-based system that uses wireless and cloud technology to accurately and conveniently measure physical activity. Trust me, it'll make you feel like Tony Stark. 
While I get all my serious training done during the week, I often like to tie up any loose ends at the weekend with a bit of a full-body session – working on anything I feel I've perhaps undertrained during the week. 
At the end of that session, I also like to relax and just enjoy being at the gym. After all, it's the only time of the week I'm not in a rush to either get back and make dinner or ensure I get an early night to secure those all-important eight hours. 
Fitness First's Media City spot has loads of really cool amenities which help to create more of a wellness club vibe, rather than just your standard Spit'n'Sawdust pump house. 
I stretched off in the designated stretching zone before jumping into my trunks and enjoying a cooling swim. After that, I hopped in the steam room and sauna for a quick blast to really get my sweat on, took a shower and grabbed a juice from the juice bar on my way out. 
I have to tell you, it was the best I've felt mentally in a very long time. A few hours of making the most of all the gym has to offer on a Saturday morning made the world of difference to my stress levels, and for that, it gets top marks.
What's On Offer At Fitness First Media City Dubai
Alongside its great facilities, the gym offers tons of great classes such as Yoga, Karate, Swimming Lessons and even Paddle Tennis. The staff and trainers really help to create a nice, community feel, which is important when you're new to any gym.
Where Is Fitness First Media City Dubai?
The gym is located at Business Central Towers A, Level 7 & 8 Dubai Media City.
Opening Times For Fitness First Media City Dubai
Monday to Friday – 5:30 AM to 11:00 PM
Saturday, Sunday & Public Holidays – 7:00 AM to 9:00 PM
Some people prefer 24-hour access, but in my opinion, 11 pm is by far late enough for you to have plenty of time in your day to squeeze in a workout. 
How Much Are Memberships At Fitness First Media City Dubai?
There are three levels of membership which get you varying perks, but the bog standard option on a 12-month contract will cost you 2,699 AED. You can choose to shorten the length of the deal, but it'll cost you a little bit more money. 
To check out more membership options or claim a free day pass visit the gym's website.