Dubai is home to a fantastic range of ladies-only gyms with everything you could possibly need to get fit, work up a sweat, and even rest and recuperate afterwards. They're a space for women to feel empowered and work out without worrying about feeling intimidated or judged.
If you're a woman looking for a ladies-only gym in Dubai, take a look at our pick of the best ones to try.
Top Ladies Gyms in Dubai to Explore
1. Fitness First Marina Mall
Fitness First is a fitness group with gyms all round the world from the UK to Dubai where they have several fantastic ladies-only options.
The Fitness First Marina Mall club is an impressive 1160 square metre space full of high-end, best-in-class exercise equipment and extensive free weights and strength training areas. There's also audio and visual entertainment throughout the club to help you power through your workout.
For women who prefer to workout as part of a group, with the amazing sense of community that brings, there's a great range of classes available at this Dubai gym. The classes include BodyPump, Body Combat, and Body Balance, as well as Fitness First's signature TUFF class and the always popular Zumba class. There's also yoga and pilates available if you prefer a slower pace to your workouts.
When you sign up as a member you get access to Fitness First's exclusive lounge with wireless internet and complimentary drinks, perfect for unwinding after a tough workout or catching up with your gym friends. You also benefit from the club's keyless security lockers so you can stash your belongings away before you head to class and have complete peace of mind that it's all safe and secure.
If you'd like to try Fitness First Marina Mall for yourself then you can take advantage of their offer of a free day pass to take a look around and test it out.
2. Embody Fitness
Embody Fitness is a gym in Dubai that's perfect for any woman who wants more structure and guidance to their workouts, thanks to their unique body transformation programmes. The luxury gym offers fully personalised 8 and 12 week programmes during which you work with their team of personal trainers, nutritionists, and sports therapists to get amazing results.
The private ladies gym has a team of ex-Olympic and professional British coaches who have years of experience and are passionate about helping women achieve their fitness goals in a non-judgemental, encouraging way. Their training methods are dynamic and fun so you'll look forward to your sessions and make lasting changes to your fitness and strength.
At Embody Fitness you get a break from the hustle and bustle of other gyms, thanks to limits put in place to reduce the number of people working out in the 10,000 square foot space at any one time. So you can work out in peace with the undivided attention of your professional personal trainer.
Everything about the Embody Fitness experience is personalised to you and your needs, from nutrition and supplement plans to the one-on-one personal training sessions with regular check-ins and reports to monitor your progress.
3. Topstretching Dubai Marina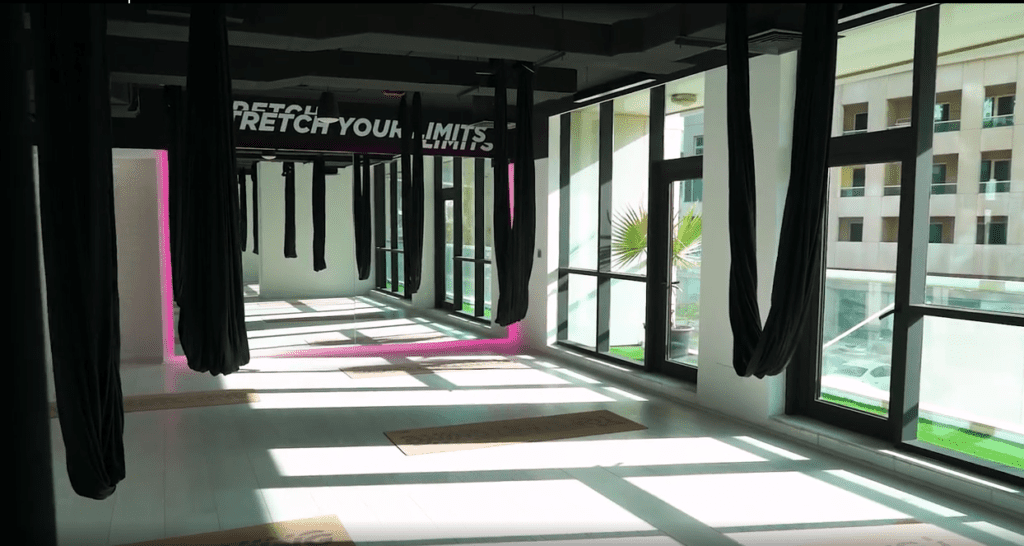 Topstretching is the first ladies only stretching studio in Dubai and it has so much to offer to women looking for something a bit different from your traditional gym.
Located in a prime location with stunning panoramic views of Dubai marina, Topstretching is easy to get to and is within walking distance of JBR walk and the beach as well as several coffee shops.
The 7500 square foot space has 3 state of the art stretching halls, all fully equipped with leading technology to get you in the best shape of your life.
Topstretching, as the name implies, is focused on exercises that stretch, strengthen, and tone, and classes at the gym include Aerostretching and Split school which both work on the end goal of achieving all kinds of splits. The Aerostretching class is brilliant for relaxing and stretching the spine, boosting overall blood flow, reducing stress on joints, and improving full body flexibility. While the Split school classes improve your posture and your joint mobility as you work towards getting into full splits positions.
The Topstretching studio is beautifully spacious with tons of natural light flooding in and is designed to be a place where women can build their strength and power while also celebrating beauty and friendship.
You can try it out for yourself with a one-time only free guest pass so you can have a look around, test out a class, and see if it's the right place for you before signing up for a membership.
So whether you want to build muscle, stretch out, or just run away your stress on the treadmill, there's a ladies-only gym in Dubai that's just right for you.