There's no shortage of gyms to choose from in Dubai and they all have something special to offer, so there's a perfect gym out there for everyone. Seven Gym Dubai is one of our favorites, thanks to the luxurious interior, amazing service and facilities, and the 36,000 square foot space with top of the line fitness equipment, ladies-only area, cross-fit box, and workout studios.
Need to know a bit more? Here are our top 5 reasons why you absolutely need to visit Seven Gym Dubai:
1. The amazing membership choices
There are 5 levels of membership available at Seven Gym, from basic which gives you access to all the gym equipment along with a body assessment and nutrition consultation, up to platinum membership which gives you access to the gym, group classes, and crossfit classes as well as some amazing exclusive benefits like unlimited ice bath sessions, VIP parking, complimentary car washing, a private locker, and personal concierge.
Not ready to commit to a membership? Then you can opt for a simple pass instead that gives you access to the gym and the classes. You can get a one day pass for 199AED all the way up to a six month pass for 5399AED.
2. Seven Gym Dubai has a great range of fitness classes
Seven Gym has a great range of classes available with something for everyone whether you're looking to improve your strength, build your muscles, or get more flexible.
The group classes include Bodypump which is a total body workout to get your heartrate up and burn calories while also toning and shaping your body, and Bootcamp which is a high-intensity, cardio-focused class that will push you to your limits.
You'll also find classes like boxing and crossfit for overall fitness, and yoga, pilates, and stretching for flexibility.
3. The amazing extras
Seven is so much more than just a gym, with some amazing extra wellness facilities available. Ever fancied giving cold therapy a try? Well you can at Seven Gym Dubai!
In the Cryotherapy chamber the temperature drops to -180 degrees while you sit and (try to) relax for just a few minutes. The therapy is meant to boost blood circulation and can help relieve pain after a tough workout, so if you've hit the gym hard it can help you recover more quickly.
If the cold isn't really your thing then Seven also has an amazing Hammam facility along with state of the art showers where you can take some time out of your day to truly relax. And if you want to make sure you leave the gym looking sharp there's even a Barber shop at Seven Gym where you can have a trim.
We've been talking a lot about various influencers and their activities in Dubai, but with such amazing extras like these, it's no wonder there are so many fitness influencers in the UAE.
4. Seven Gym has an amazing cafe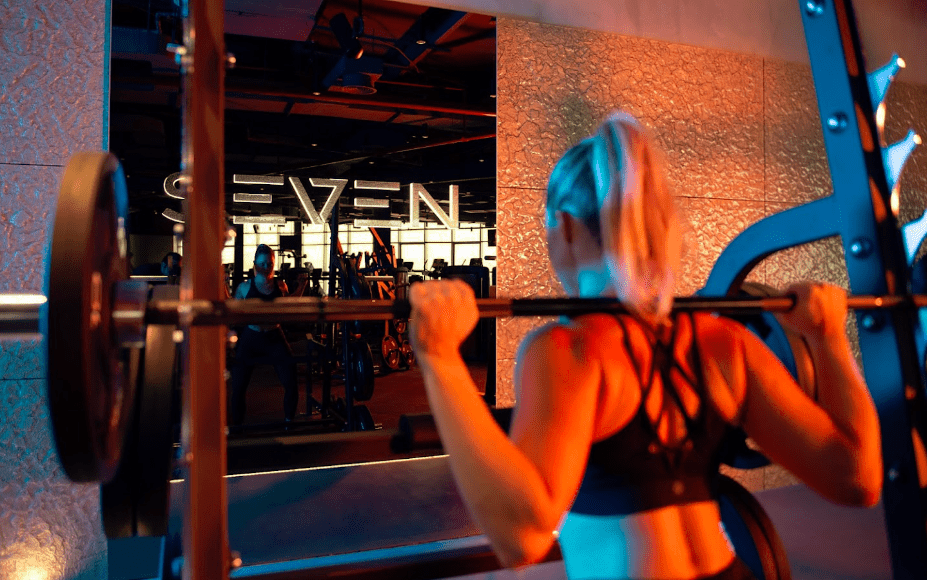 Whether you want to refuel after a tough workout or relax and catch up with friends you can do it in the relaxing Seven Gym cafe. The cafe has been designed to feel like you're hanging out in your friend's living room, with a laid back welcoming atmosphere and comfy sofas to chill out on.
They serve food all day so you can pop in for a breakfast of truffled eggs or vegan pancakes, or maybe a vibrant acai bowl, or visit in the evening for a wagyu burger or tuna teriyaki. 
Or keep it simple and enjoy a double espresso or a flat white to get that caffeine hit to power you through the rest of your day.
5. Great location and opening hours
Seven Gym is located at exit 43 of Dubai Al Manara road so it's super easy to get to from wherever you are in Dubai.
It's open from 5.30am to 11pm Monday to Friday and from 7am to 8pm on the weekends so whatever time of day you want to visit and get your workout in you can do it at Seven Gym.
You can find out more about great gyms all over the world on our Gyms passes page.