A good pre workout is like rocket fuel for your body, giving you that extra boost of energy to power through even the toughest of workouts.
You know those days when you're all sluggish, can't seem to get in the zone and just really aren't feeling it? With pre workout you can hit them head on and turn things around with just one scoop. Within half an hour you'll be pumped up and ready to crush your gym session like never before.
The active ingredients in pre workout formulas increase blood flow to your muscles for insane pumps, and give you superhero power and energy to knock your workout out of the park.
Not all pre workouts are created equal though, so we've picked out our top 5 pre workout supplements that you can buy in Dubai to crush your fitness goals.
1. Cellucor C4 Original Explosive Pre Workout 
The Original pre workout formula from Cellucor is made to take your energy, endurance, and pumps to the next level.
With 150mg of caffeine in each serving, C4 gives you that explosive energy to push harder, go further, and lift heavier throughout your workout.
The formula also has CarnoSyn Beta-Alanine, an amino acid that supports muscular endurance and fights muscular fatigue, and a patented combo of Creatine and Nitrates that work together to enhance your pumps.
Cellucor C4 Original is available in a range of amazing flavours including Orange Burst, Watermelon, and Fruit Punch and you can get it in 30 or 60 serving tubs.
Right now you can get a 30-serving tub of the delicious Fruit Punch flavour for just AED 75 from noon.com, down from the normal price of AED 99.
2. Bucked Up BAMF Black Pre Workout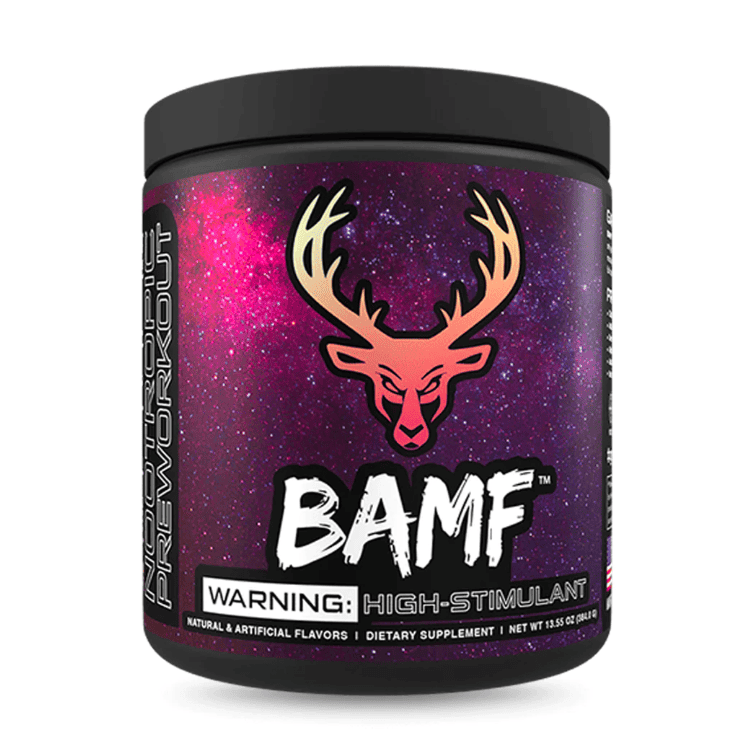 Keep your head in the game from start to finish with BAMF Black pre workout, formulated with brain-boosting nootropics to give you incredible focus and mental sharpness.
The zero-sugar, keto-friendly formula also packs a powerful punch when it comes to the energy, endurance, pump, and performance that it gives you, so you can give it your all through the toughest of gym sessions.
Get in the zone and hit that flow state with a tub of BAMF Black in your gym bag. Pick one up from Noon.com for just AED220, down from the standard price of AED255.
3. REDCON1 Total War Pre Workout Rainbow Candy
For reliable energy, power, and endurance time after time, you can't beat this Total War Pre Workout. From the first time you try it to the last scoop out of the tub, Total War hits hard so you can crush every single workout.
Each serving of Total War is packed with a powerful combination of ingredients, designed to help you dominate your workout with insane energy and super-sharp focus. With 320mg of active caffeine you'll be raring to go and ready for battle in no time, with unstoppable energy and unrivalled attention.
Looking for enhanced pumps too? No worries, Total War's got your back with 6g of Citrulline Malate which helps increase blood flow and deliver nutrients to your muscles. And with Beta-Alanine for enhanced endurance and Taurine for improved performance, this pre-workout really has everything you need to bring the heat at the gym.
A 30-serving tub is currently on sale for AED115, down from the usual price of AED220.
4. Applied Nutrition ABE Ultimate Pre Workout
ABE (All Black Everything) is a best-selling pre workout from Applied Nutrition and is the result of extensive research and precise lab testing to make it the best it can possibly be.
The deliciously sweet tasting pre workout is made with a unique blend of active ingredients which were carefully chosen to boost your physical performance, reduce feelings of fatigue, and give you sharp, continuous focus throughout your workout.
Along with 200 mg of caffeine in each serving, ABE also contains Citrulline, Creatine, Beta-Alanine, TheaCrine, and Vitamins B3 and B12, which all work together to help you shake off tiredness and take on your workout with incredible energy, endurance, and efficiency.
Grab a 30-serving tub of the amazing Candy Ice Blast flavour for just AED95.
5. Insane Labz Psychotic Gold Pre Workout
Get ready for absolutely unhinged energy with Insane Labz Psychotic Pre Workout.
The formula was created for hardcore stimulant fans, who can't get enough of that wild feeling you only get from a great pre workout.
Packed with 2 forms of caffeine, and other scientifically-backed ingredients like L-Citrulline, Beta-Alanine, and Agmatine Sulfate, Psychotic Gold is the pre workout you need for insane energy, vein-boosting vascularity, and mental muscular endurance.
Grab a 35-serving tub of the Orange flavour Psychotic Gold for AED119 from Noon.com.
Up next, check out our posts on Applied Nutrition Critical Whey and Top Protein Bars in Dubai.