Gyms in Dubai are by no means in short supply. In fact, Dubai is probably home to some of the most luxurious and eclectic facilities in the world. And as more and more influencers migrate to the City of Gold, you can bet the fitness scene will continue to grow exponentially. But amid the masses of companies and entrepreneurs fighting it out to make their mark, F45 has, for a long time, stood head and shoulders above many of them, strengthening its grip on the game by opening a host of facilities. The business now has 9 gyms across the city and is showing little sign of slowing up.
So, what is F45 and what's so different about it?
The answer to that question is quite literally in the name. The 'F' in F45 stands for functional, which means members focus on a mix of circuit and HIIT style workouts geared towards everyday movements. The '45' is the total amount of time for sweat-dripping, heart-pumping fun. And no, that doesn't include the warm-up for those of you thinking you might get off lightly. 
Supported by an expert team of trainers, F45's workouts are designed to unify the muscle groups of the body and to help make you feel and perform better in all aspects of your life. To do that, the workout schedule is divided into a 7-day body-burning split. Wednesdays are assigned for cardio, while resistance training takes place on Tuesdays, Thursdays and Sundays. To knit that all together, Mondays, Fridays and Saturdays are left for hybrid sessions.  
It sounds like a lot, and of course, you don't have to do the full schedule. But what has played a key part in F45's success in the Gulf Tiger is its community-focused approach. Each rep is done as part of a team, helping you get every last ounce from your workout. Aside from the group aspect, there is also a tonne of great equipment which you can use to fine-tune your gains. A testimony from one gym user on the F45 website said: "The workouts will kick your butt every time, plus they can be modified for beginners and those with more experience. It's for everyone and I love it."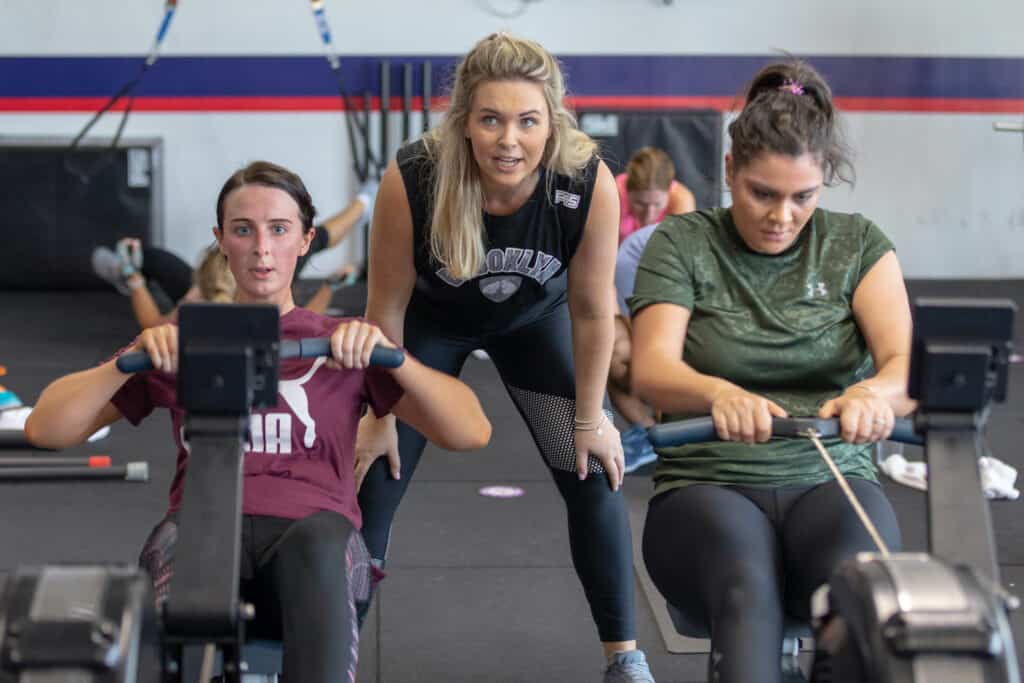 How much does it all cost?
There are a host of different membership options, each with varying costs. F45 offers 1, 3, 6 and 12 month deals. As with most other gyms, the more time you sign up for, the cheaper it works out. For example, 1 month will set you back 1,250 UAE dirham, whereas committing to 12 months works out at just 9,000 UAE dirham. For more details, visit F45's website.
The Full List Of F45 Gyms In Dubai
To make life easier for you, we've compiled a list of where F45's 9 facilities are located throughout Dubai. These are:
F45 Training
Address: Trident Grand Residence – Dubai Marina
F45 Training Downtown Dubai
Address: 29 Sheikh Mohammed bin Rashid Blvd – Downtown Dubai
F45 Training Palm Jumeirah
Address: Golden Mile 5 – The Palm Jumeirah
F45 Training DIFC
Address: Al Mustaqbal St Shop 1, P2, DAMAC Park Towers
F45 Training Jumeirah Beach
Address: Sunset Mall – Jumeirah – Jumeirah 3
F45 Training Dubai Motor City
Address: Kojak Building – Detroit Rd 2nd Floor – Motor City
F45 Training Dubai Hills
Address: Dubai Hills Estate Business Park 3 Unit 105, Level 1
F45 Training Springs Souk
Address: Springs Souk Mall 1st Floor
F45 Training Jumeirah Park
Address: Jumeirah Park East Pavilion (District 7), 1st Floor, Studio 3