In perhaps one of the most bizarre fights that will ever be made, Floyd Mayweather will meet Deji in the ring next month for the latest crossover of YouTube and boxing. 
After rumors the pair were in talks a deal was recently announced for Mayweather, 45, to face off against KSI's brother in Dubai.
It will be 'Money' Mayweather's fifth exhibition bout since retiring professionally in 2017 after cruising past ex-UFC champion and elite wind-up merchant Conor McGregor in a $300m super fight. 
Since then, the undefeated fighter has faced off against Japanese kickboxer Tenshin Nasukawa, former sparring partner Don Moore in Abu Dhabi, and mixed martial artist and YouTuber, Mikuru Asakura.
Most notably, the self-proclaimed 'Best Ever' battled it out with internet personality Logan Paul in 2021 – who is coincidentally the co-founder of Prime alongside KSI.
After the fight, Floyd gave credit to Paul by announcing he was "better than I thought he was", but more importantly said he "probably" wouldn't return to the ring for another exhibition.
While his bouts against Moore and Asakura came after that statement, it seems slightly surprising that Deji would be the man to tempt him back into the mainstream spotlight. After all, many wouldn't have even known the other two took place. 
For a man who could probably pick any YouTuber to fight, you might have thought he'd take on Logan's brother Jake – who is calling out near enough ever semi-retired or retired boxers and MMA fighters right now.
It would have even seemed more plausible for him to go toe-to-toe with KSI, who recently made waves by dispatching pro-boxer Pineda and rapper Swarmz on the same night.
But, they don't call him Floyd 'Money' Mayweather for no reason, and the prospect of a healthy payday for what you should imagine being a relatively straightforward evening was possibly too good to turn down.
Deji, in fairness to him, is fresh off a win against American Fousey – which followed a run of three straight losses for the gamer.
Speaking on the fight, he said: "Huge thanks to Global Titans and my team for creating this incredible opportunity.
"It's a privilege to be headlining this phenomenal spectacle in Dubai, against the all-time great Floyd Mayweather. This is going to be fun!"
Whether you love or loathe the idea of exhibitions or indeed YouTube fights, it's always worth tuning in to see an all-time great put the gloves back on at the very least.
When is Floyd Mayweather vs Deji?
Floyd Mayweather vs Deji will take place on Sunday, November 13, live from the Coca-Cola Arena in Dubai. The ring walk times for the main event are expected at around 10pm UK time – which is 1am in the City of Gold.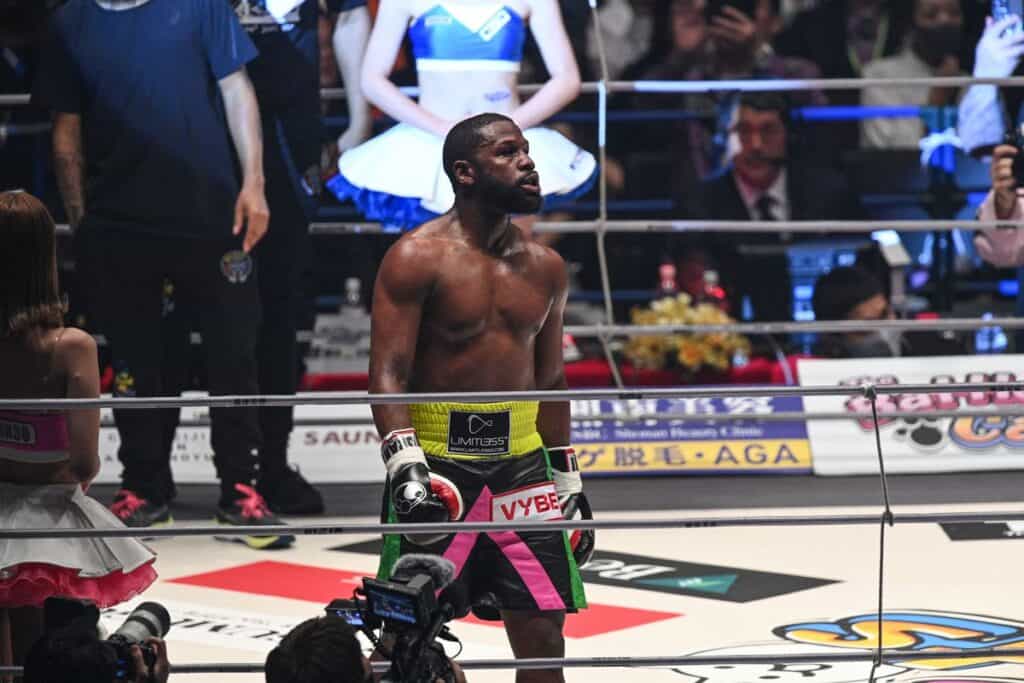 What live stream is Floyd Mayweather vs Deji on?
Like a lot of the YouTube fights, Mayweather vs Deji will be shown live on DAZN PPV in the UK. A price for the fight has yet to be announced. The DAZN app is available for download on your mobile or tablet device.
Who is fighting on the undercard?
It's quite an eclectic mix of fighters, influencers, and ex-servicemen on the undercard, which may well add to the overall spectacle.
Tommy Fury will go toe-to-toe with US Marine Corps veteran Paul Bamba, with the New Yorker currently boasting a record of 5-2. Fury, the younger brother of heavyweight champion Tyson, will be looking to add to his 8-0 record after two successive canceled grudge matches against Jake Paul. 
American professional wrestler Bobby Fish is fighting Boateng Prempeh, while Love Island star Jack Fincham is coincidentally facing off against Jake Paul's sparring partner, Anthony Taylor.
Full Card
– Floyd Mayweather vs Deji
– Tommy Fury vs Paul Bamba
– Delfine Persoon vs Ikram Kerwat
– Bobby Fish vs Boateng Prempeh
– Jack Fincham vs Anthony Taylor
– Harley Benn vs Faizan Anwar
– Jaider Herrera vs TBA