We all love a good home-grown success story don't we, and Fade Fit is one of those brands that have been built from the ground up here in Dubai. If you're not familiar with their story, here's everything you need to know about Fade Fit.
Fade Fit is the fitness brand founded by Virgin Radio presenter Kris Fade back in 2019.
It all started with Kris sharing his own personal fitness journey after a battle with anxiety and depression that saw his weight go up to 128kg. Wanting to come off the tablets he was taking for anxiety, Kris turned to exercise to help instead and found that not only did it help his mental health but also had huge benefits for his physical health.
When people started asking how he'd managed to bring his weight down and take charge of his health and fitness, Kris launched Fade Fit with a one-day event focused on all things fitness.
From there things expanded to include the Fade Fit range of healthy snacks, smoothies, and vitamins, which he was inspired to create after finding it hard to buy snacks in Dubai for his daughters that weren't crazy expensive or imported from overseas.
In his words, 'I saw this as a gap in the market for a healthier option for kids. Within four months we had a product on the shelves and I find it mind-blowing to see it out there'.
The snack range includes delicious, healthy kids snacks in Berry Blast, Choco Loco, and Double Choco Loco flavours which are made with dates and rice crispies for a naturally sweet taste.
On top of that are some amazing snacks that are perfect for both kids and adults, including Protein Puffs, Protein Balls, and energy snacks in a great variety of flavours. And for an extra boost of nutrients Fade Fit also have multivitamins specifically designed for kids, as well as gummies for grown ups like Tumeric Ginger gummies to support healthy muscles and joints.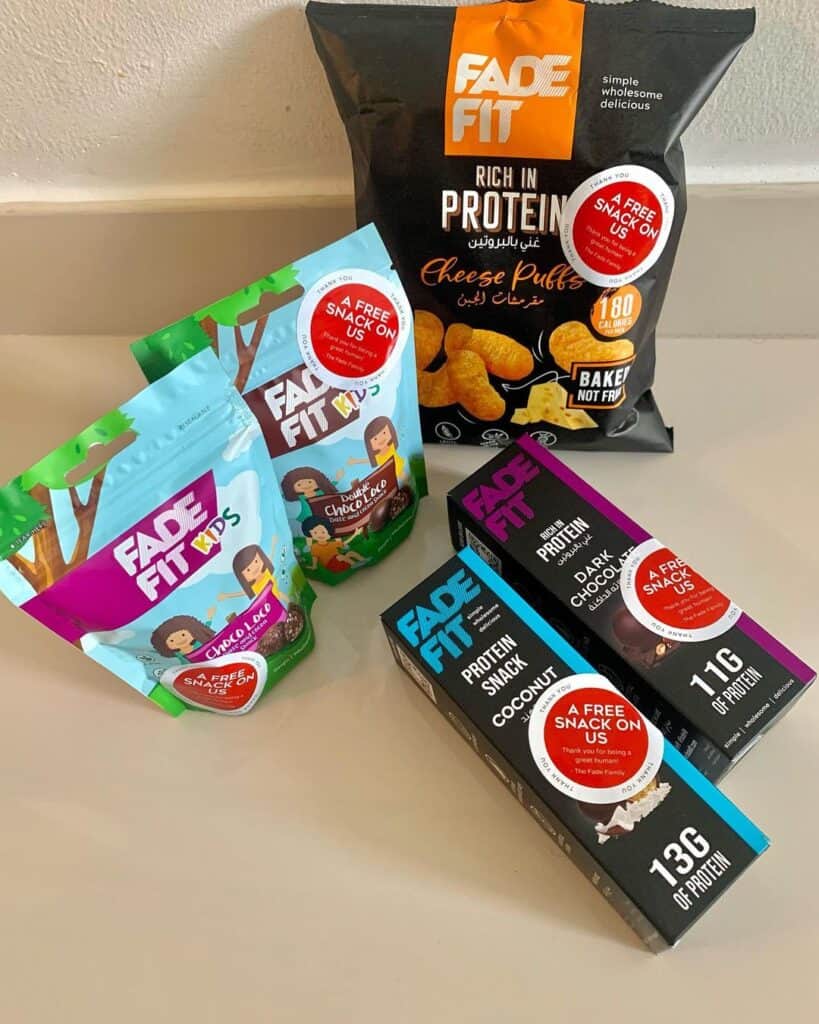 One thing we really love about Fade Fit is their focus on fun and family, with tasty snacks that everyone can enjoy as part of their healthy lifestyle. And the fun really steps up a gear with the Fade Fit Kids healthy snack factory at Kidzania UAE where kids can get to work making their favourite snacks with their own hands.
Fade Fit is a Dubai brand that is growing fast, with a growing product line including snacks and apparel, and more fitness and wellness events on the horizon. So all you healthy living fans, this is a brand you absolutely need to keep your eyes on! Visit the website here now to shop.