Instagram is absolutely jam packed with influencers nowadays, and it can be hard to work out who's best to follow to help inspire you to reach your goals. Fortunately, we've picked out 5 fitness influencers that you need to follow on Instagram – Lilly Sabri, Alice Veglio, Andrei Deiu, Larry Wheels and Laila Mourad – who are absolutely crushing the fitness game out in Dubai. With a collective following in the millions and more muscles than you can shake a protein bar at, we're sure you'll be dying to drop these stars a follow after this one.
5 Fitness Influencers That You Need To Follow On Instagram
Lilly Sabri
Lilly Sabri is the undisputed queen of getting lean. Combining her background in physiotherapy with her unrelenting enthusiasm for keeping fit, the 'fun workout gal' has somehow made HIIT classes an enjoyable experience for millions of people. Sounds crazy, I know. A Gymshark athlete, the 31-year-old has 711,000 followers on Instagram with a further 3.7 million people subscribed to her YouTube channel. Her app, 'Lean with Lilly', even has 100,000 followers on its own Instagram page. Alongside workout tips, Lilly also posts food, travel and fashion content, often sharing her daily diet or gym fits with her followers. So, if you're looking for an all rounder with years of experience in shedding pounds quickly, then Lilly Sabri is the gal for you.
Alice Veglio
Influencers are often seen as people who have been dealt a 'lucky hand in life', and on the rare occasion that may well be true. But in the case of Alice Veglio, that's way off the mark. As a young girl growing up in Italy Alice almost saw her dreams crumble before her very own eyes after receiving a severe spinal rotation diagnosis. At the age of 14, she was told by doctors she may never walk again and looked destined for immobility. But fast forward to now and that prediction couldn't be further from her reality. A true boss lady, Alice began her career as a project assistant and sustainability journalist at the Dubai Carbon Center of Excellence after graduating in Economics and training in Nutrition and holistic sciences. She later took on the role of project manager at the United Nations WGEO.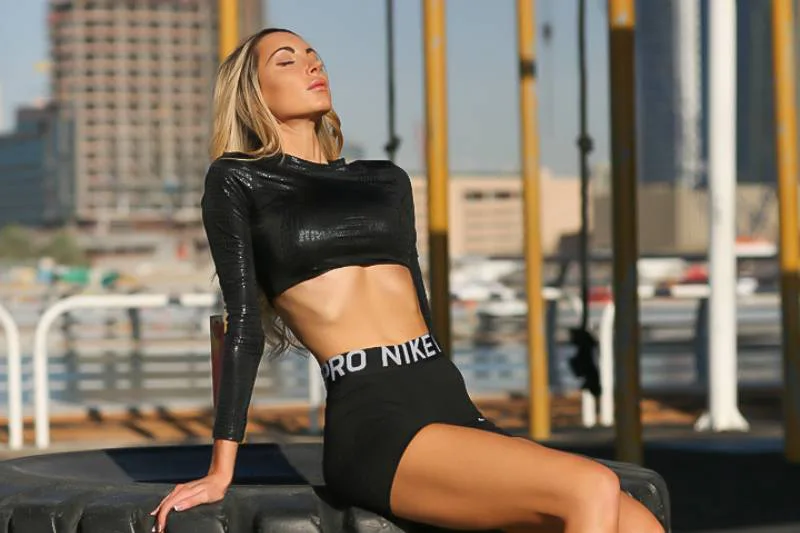 In 2019, she put her double university training to good use by launching Bright & Fit – one of the first online programmes promoting women's health and empowerment – turning over more than 500,000 euros in her first year. The international model has also amassed a huge following of 213,000 people on Instagram and has been featured on Forbes Italia. At just 26 years old Alice looks like she's set to rise to the very top. Why not follow her journey?
Larry Wheels
The man mountain and fitness influencer extraordinaire is quickly becoming one of the most popular content creators in the world; bridging the gap between everyday training and powerlifting for millions of people. Born and raised in the United States, Larry started pumping iron at just 14-years-old before joining the Army National Guard after finishing high school. Following four years of service he headed to Dubai to pursue a full time career as a professional strongman – and he's not looked back since, racking up 3.4 millions followers on Instagram. Larry's attitude towards training is perhaps what makes him one of the most notable and well-respected influencers in the game.
After smashing a new deadlift PR of 930lb for one rep just eight-weeks ago, Larry has already tripled his previous best by pulling it for three reps in the last few days. In what has been a week of continual successes for the 27-year-old, he also set a new bench press PR of 675lb at 307lb body weight – meaning the American unit moved more than twice his own mass. Not only does he compete across the world, Larry also has his own app which he's unsurprisingly named 'Personal Record'. When he's not smashing his targets or pushing chest-splitting weights, he's actually an incredibly funny guy. He often posts bizarre content from the gym, most recently sporting a blonde wig for what was quite a disturbing advert for The Beard Struggle. For that reason alone, he's well worth following.
Andrei Deiu
Much like Larry Wheels, Andrei's fame has transcended way beyond the bodybuilding community. Built like Hercules, the chiselled Romanian has an incredible 5.4 million followers on Instagram – and I suspect a good few of those may well be female. But the jet setting ladies man wasn't always the sculpted figure he is today. Andrei admits he struggled in his early teenage years, often bingeing on video games and eating junk food. His lifestyle and weight led to him being picked on by other kids, which ultimately proved one of his chief motivators for hitting the gym. Now a far cry from the down and out figure he describes in his youth, Andrei has been competing professionally since he was 17 and ranked 7th in last year's Mr Olympia – the pinnacle of bodybuilding. The face of Boohooman Active and Evogen Nutrition, the 26-year-old also owns his own training website, 3D gains, alongside clothing label Strutt. Having previously fallen out of full time training following a heavy year of competing in 2021, he's now back in Home Champions gym in Dubai and raring to get stuck into the 2022 bodybuilding calendar. Why not follow his progress?
Laila Mourad
One of the first in a wave of YouTube stars who made their name on the platform, Laila has been creating fitness, lifestyle and travel content since 2012. Born of Lebanese-Canadian descent, the 28-year-old is one of the few influencers based in Dubai who can actually speak Arabic, and she regularly produces videos in her mother tongue. Known for her bubbly personality, she has 1.4 million followers on Instagram and 2.2 million subscribers on YouTube to boot. The model and content-creating extraordinaire got married to her husband Adly earlier this year, enjoying a dream wedding in the Seychelles which she shared with her followers. An astute businesswoman, Laila is also the founder of premium fitness equipment brand, Takt, and has a net worth estimated to be in the millions of dollars. If you're after a wholesome influencer with a homely vibe, Laila is the one for you.