You might have heard a lot about Jet Skiing in Dubai but have you heard of meeting the penguins or actually skiing down one of the biggest slopes in the world right in the centre of the UAE? That's exactly what Ski Dubai has done and it blew our minds.
Picture a Winter Wonderland – glittering slopes of fluffy white snow, cosy wooden cabins, and luxurious hot chocolate topped with fluffy cream. Now picture this in the middle of the desert…
Ski Dubai is the world's first indoor ski slope to open in the Middle East. Ski Dubai is located in the Dubai Mall of the Emirates, it is the third largest indoor ski slope in the world with 6,000 tons of snow covering 22,500 sq./m of slopes all year round. There are some incredibly cool activities to enjoy with friends, family or solo: from learning how to ski or snowboard, to snuggling down to a film with a hot chocolate, to chilling with penguins (yes, penguins!). It is, quite literally, the coolest place to go for a day of fun. So, what can you get up to at Ski Dubai?
About Ski Dubai
Skiing and snowboarding would be the most obvious activity at Ski Dubai, and it's great that they keep it interesting with five different runs varying in difficulty, height and gradient. There is both a chair-lift and a T-bar lift to give you unlimited runs for at least two hours, so you can go for an adrenaline-fuelled workout, or slowly meander your way down and take in the sights of the indoor alpine scenery. If you find yourself bum-shuffling (not ideal) you can book a lesson with the Ski School. Whether you are a beginner who wants to learn the basics or a seasoned slope-head who wants to build confidence and skills, the Ski School has a team of professional instructors with whom you can book private or group lessons for both skiing and snowboarding. The instructors are really knowledgeable and so friendly, they will boost your confidence and have you zoom down those slopes like a pro in no time.  
Ski Dubai Snow Park
Snow Park is where it gets wild. Make sure you book ahead and maybe avoid weekends as that's when it gets super busy, but plan it right and you can enjoy so many activities that are fun for people of all ages, including:
· The Mountain Thriller – slide from the highest point of the slopes on a Bobsled
· Zorbing – stuff yourself inside a giant, transparent, inflated ball and roly-poly down the slopes
· Snow Tubes – overtake the skiers as you slide your way through the slopes
·         Snow Bullet – transform into Eddie the Eagle as you fly 16m above the slopes (attached to a zipline, don't worry!)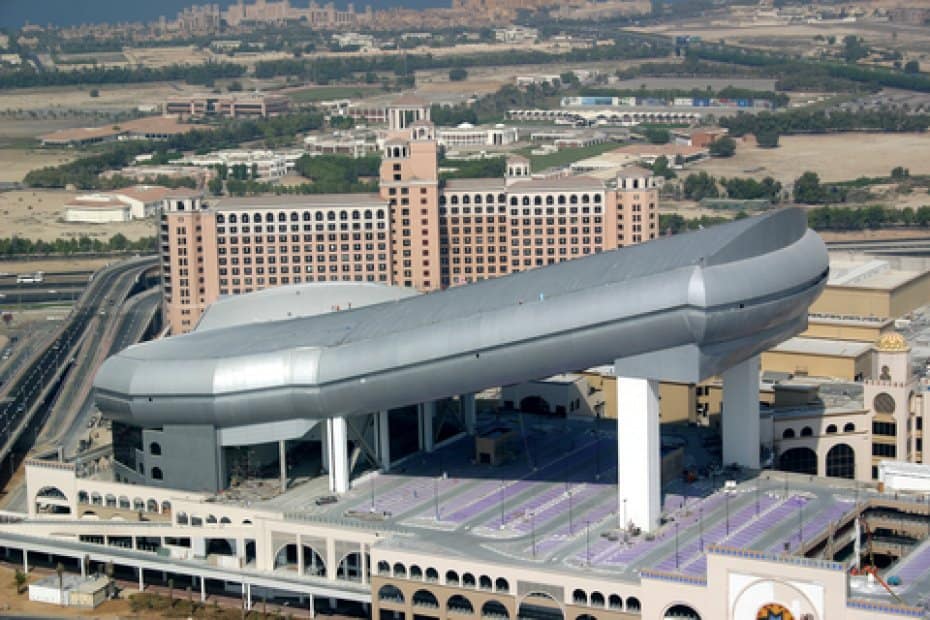 Ski Dubai Snow Cinema
Looking for something a little less active? Book tickets to a screening at the snow cinema, where you can watch your favourite and the latest films in a dreamy snowy landscape. Hot chocolate and popcorn are included, as well as cosy overalls and gloves to keep you warm – how thoughtful!
Ski Dubai Meet The Penguins
Arguably the greatest feature at Ski Dubai – they have their very own colony of King and Gentoo penguins. You can meet them and go for walks with them, which is adorable. It's only a 40-minute session which does feel short but in all fairness to the penguins, humans are exhausting.
Can You Dine At Ski Dubai?
Finally, after a day of rolling around in the snow, warm yourself up and relax at one of two eating spots within the ski slope arena. Avalanche Café is located at the midway mark on the slopes, where you can sip on Ski Dubai's signature hot chocolate whilst watching other ski and snowboarders in action from their terrace. They also serve delicious sweet and savoury treats to replenish that energy. For a bigger refuel, head to North 28. Here they serve a vast array of delicious food, from aromatic Eastern dishes to cosy and heart-warming dishes from the West. Their menu caters across the board for the indulgent eaters, the adventurous tasters, and the health-conscious munchers.
How Much Does It Cost To Ski In Dubai?
Ski Dubai offers a range of packages, most of which include entry to the slopes and ski park, rental of jacket and trousers, and access to unlimited rides on the chairlift. Also available are ski and snowboard camps for kids, student nights on Tuesdays and Thursdays, as well as Ladies' or Guys' Nights. Head to their website to find a package to suit you!
The Ski Dubai ticket price starts from around 150AED with further hours, lessons and attractions to be added.
Ski Dubai really does have excitement and adventure to suit everyone – an exhilarating, adrenaline-filled retreat from the balmy desert heat. You can get your tickets Ski Dubai via their website or through local attraction agencies.