Jake Paul has been announced as the special guest for Floyd Mayweather's hotly-anticipated return to the ring against YouTuber Deji. 
Global Titans Fight Series revealed The Problem Child had touched down in Dubai ahead of the bout at the Coca-Cola Arena on Sunday, November 13.
Upon landing, Jake tweeted: "First time in Dubai. Top 5 places to go that are not the obvious?"
Fresh from his latest victory against the legendary striker and former UFC champion Ander Silva, Jake will be keeping a close eye on the evening's events. 
He'll undoubtedly take a special interest in the co-main fight – which sees Tommy Fury take on American light heavyweight Paul Bamba.
Jake and Tommy have had a long-running feud which has seen both continuously fire shots across the bow at each other over social media. 
Their relationship was further soured by two failed attempts to settle their differences in the ring. Regardless of the result, expect sparks to fly if the two are in close quarters.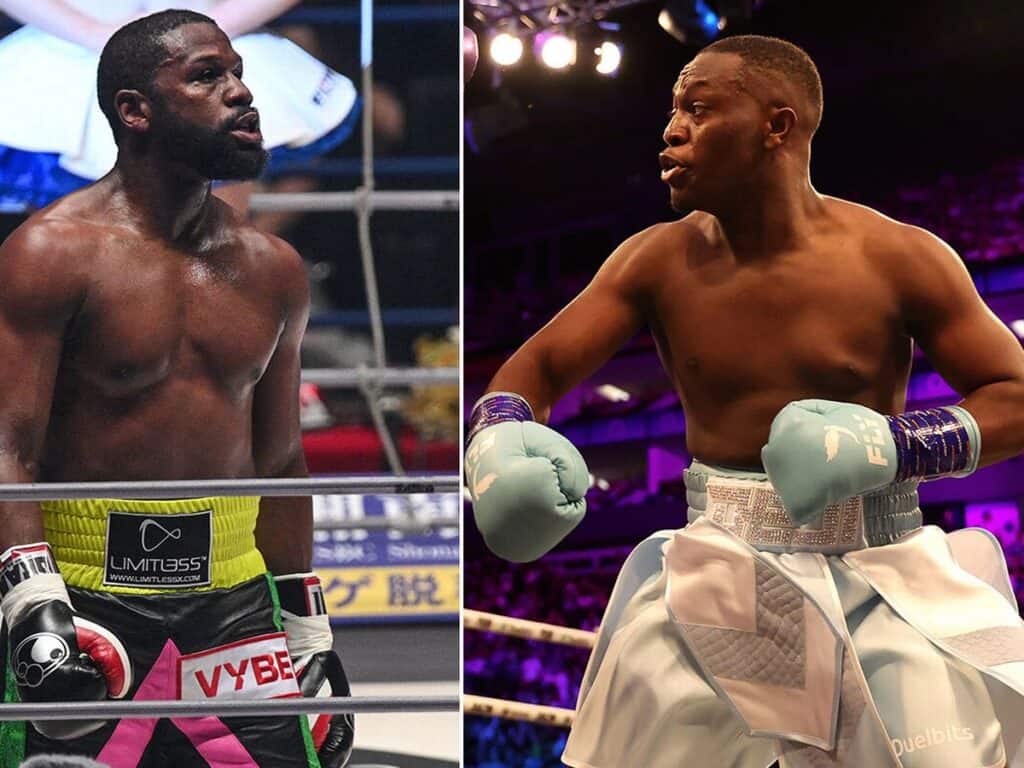 Another subplot to keep an eye out for is Jake's beef with Deji's brother KSI.
The rapper, boxer, and YouTuber extraordinaire recently taunted Jake by smashing a punchbag that had a cut out of his face on it with a big right hand.
Jake and KSI have agreed to go at it in 2023. The duo has been going back and forth since JJ's two fights against Jake's brother, Logan, who coincidentally fought Mayweather during an exhibition match.
Deji originally was 0-3 in white-collar bouts after losing to Jake, Vinnie Hacker, and Alex Wassabi.
However, he recorded his first boxing win back in August by stopping Fousey in a much-improved performance. But instead of another victory, his hopes for the fight against the unbeaten Mayweather are a lot less ambitious.
He said: "I'm looking to land a punch. That would be amazing of course against the best defensive fighter in the world.
"So, I'm looking to have fun, I'm looking to showcase my skills and show what YouTubers can do.
"Me being in there with Floyd is only going to enhance my skills in boxing and push me further up the ladder.
"Then I'm going to keep dominating the YouTube boxing scene after.
"Me fighting Floyd in itself is a W, I'm not afraid of what's to come. If you're scared of getting knocked out, you shouldn't be fighting."
Floyd said: "I am delighted to bring this incredible boxing experience to Dubai.
"Global Titans will give fans an unrivaled boxing match with a huge undercard.
"It is an honor to be a part of such an iconic event in an iconic city, and I would like to thank the Global Titans team for reaching out to me and giving back so much to the sport I love."
Ring walks for the main event are expected around 10 pm UK time.
The full card is as follows:
– Floyd Mayweather vs Deji
– Tommy Fury vs Paul Bamba
– Delfine Persoon vs Ikram Kerwat
– Bobby Fish vs Boateng Pempreh
– J'Hon Ingram vs Koji Tanaka
– Jadier Herrera vs Franklin Manzanilla
– Harley Benn vs Faizan Anwar
– Jack Fincham vs Anthony Taylor