Dubai is well-known for being one of the fittest places in the world thanks to the focus it puts on health and fitness. With its great range of gyms and fitness facilities, there's something for everyone across the city looking to get and stay in shape.
We've looked at the different places around Dubai to find the residences with the best gym facilities.
Dubai Residences With The Best Gym Facilities
Jumeirah Village Circle
Business Bay
Jumeirah Beach Residence
Jumeirah Beach Residence (JBR) is a popular beachside community that has everything a fitness enthusiast needs to stay in shape. There are some amazing gyms available in Dubai Marina that JBR residents can enjoy.
Warehouse gym has a JBR branch that offers some of the best gym classes in Dubai, including boxing, CrossFit, and spinning, all with amazing trainers. And for anyone who prefers to work out outdoors they offer a circuits outdoor workout programme.
Is kickboxing more your thing? Then check out the JBR branch of UFC Gym Middle East – it's renowned for its kickboxing classes.
There are also some great outdoor options for workouts in Jumeirah Beach Residence. If you like to keep things simple then you could head to The Walk, which is always popular with fitness-conscious locals. 
At 1.7km long the beachfront promenade is the perfect length for a walk or bike ride that'll get your heart rate up a bit. And there's always loads to see along the way, from street painting to photography displays.
Jumeirah Village Circle
Jumeirah Village Circle (JVC) is a modern, family-friendly development with a real sense of community. Along with its mix of spacious villas and townhouses, it was an amazing range of amenities for the whole family. And for the fitness fans in the family that includes some fantastic gyms and outdoor spaces to workout in.
The residential buildings in JVC generally have their own gyms and swimming pools for residents to use, but there are also some great stand-alone gyms in the area.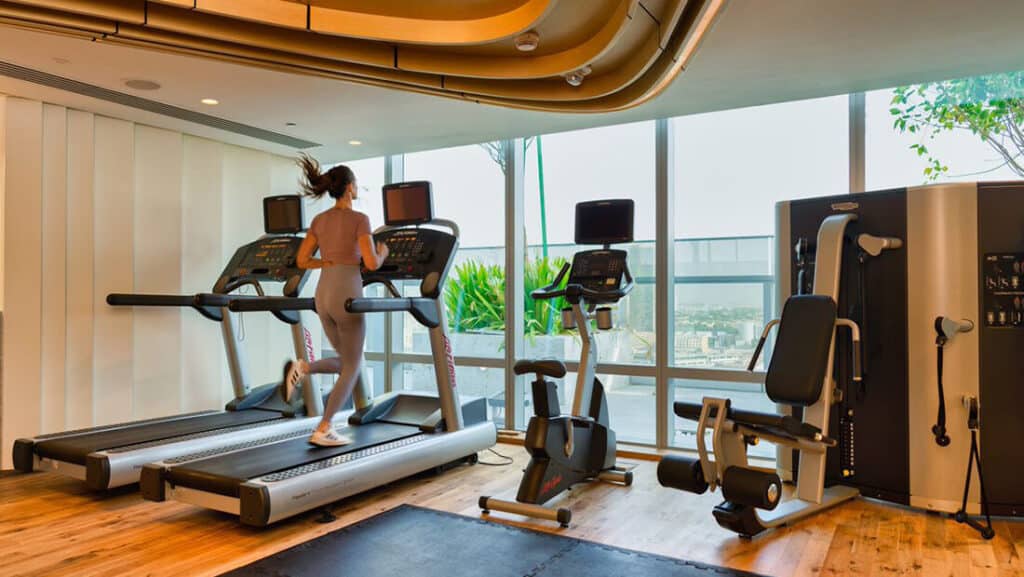 The New Life Fitness Gym is one of the best in Jumeirah Village City, with an extensive range of modern exercise equipment. And RootsCamp fitness offers outdoor circuit training sessions for everyone from beginners to fitness addicts. 
For people looking to workout away from the gym, JVC has an impressive 33 landscaped parks that connect the village and that are perfect for walking and jogging, with the beautifully maintained trees along the track offering shade on hot, sunny days.
Prefer to get your exercise on two wheels? There are also bike paths near the parks that you can take advantage of.
JVC has so much to offer for families who like to stay active while enjoying a calmer, quieter lifestyle in a place with a laid-back atmosphere and beautiful surroundings.
Al Quoz
If your vibe is more hipster, then Al Quoz with its art galleries, independent boutiques, and a cool mix of industry and residential areas could be right up your street.
Over the years Al Quoz has developed into one of Dubai's most vibrant art and cultural districts, with old warehouses being transformed into trendy performance spaces and independent shops. It's also a brilliant place for fitness and well-being.
Al Quoz is hard to beat as one of the Dubai residences with the best gym facilities, making it perfect for die-hard gym fans. There's Gymnation, which is one of the biggest gyms in Dubai and is well-equipped with all the modern equipment and facilities you'd expect. They also have an amazing boxing ring, if that's your thing. They have locations across the city, including the one in Al Quoz and are also one of the cheapest gyms in Dubai.
Warehouse is another gym that has locations across Dubai, including Al Quoz. It has a unique, industrial vibe that fits in perfectly in Al Quoz and offers a fantastic range of classes with top trainers.
On the other end of the spectrum, Seven is a luxury gym that feels more like walking into a high-end hotel than a workout space.
The gym is fully-equipped and there's a huge range of classes to choose from, as well as a steam room to relax in after your workout.
The last gym you need to know about in Al Quoz is Gravity Gym, which has been described as more of a fitness education centre. All their workouts are based around callisthenics and parkour, so you learn to use your body weight to get in shape.
Stepping away from the gym there are still loads of options for getting active.
Al Quoz pond park is the perfect spot for a run, with a track built around the perimeter of the pond. There are also football fields, basketball, and volleyball courts at the park if team sports are more your thing.
There's the DxBike track for cyclists where you can cycle along tree-lined pathways with stunning views of the Dubai skyline. Once you've finished your ride you can make the most of the changing rooms, showers, and vending machines available at DxBike.
Dubai Sports City
Is it really a surprise that a place called 'sports city' will have some of the best fitness and gym facilities in Dubai?! Dubai sports city is a real hub for sporting activity, with it being home to the International Cricket stadium and Els Club golf course.
There's also the sports village with training grounds and facilities for a big range of sports from football to netball. And for the athletes, there's an Olympic running track to put you through your paces.
As far as gym facilities go there's the Elite Sports Residence with state-of-the-art fitness facilities and a relaxing spa for residents to use after a good workout.
The star of the show in Dubai Sports City as far as gyms go though is Fit Republic.
It's one of the biggest gyms in Dubai and makes working out an experience that feels tailored to your individual needs.
Here are just some of the things you'll find at Fit Republic:
An Olympic-sized swimming pool
A gymnastics space
MMA training
Strength and conditioning classes
Mind and body exercises
Childcare
So whatever type of fitness you're into you'll find a place to enjoy it in Dubai Sports City.
Business Bay
Built along the Dubai canal, Business Bay is another Dubai residence that is perfect for fitness fans. There are great outdoor spaces for working out around Business Bay. You can grab your skates and hit Bay Avenue, Skate Park. Or take your bike for a ride around Burj Park. 
Or you can ditch the wheels altogether and go for a run around Safa Park's running track. What about the gyms you ask? Well, there's no shortage of them in Business Bay.
Warehouse gyms have a branch here for a start, offering their usual mix of classes with amazing trainers.
Dhyana Dubai offers something a bit different with their Pilates and Yoga classes, while BARE have a great schedule of full-body workout programmes as well as sessions for newbie gym-goers.
The Gym might have a simple name but it's one of the more luxurious places to workout in Business Bay. It's kitted out with all the latest equipment with built-in video entertainment so you can watch Netflix while you workout. And once you're done you can head to their healthy cafe and chill out in the lounge area. 
There's also Fitness First gym in Vision Tower and Elevation Fitness on Al Sa'ada Street, so you really are spoilt for choice in Business Bay.