If you haven't already seen Andrew Tate on your TikTok 'For You' page, where have you been? The straight-talking kickboxer turned business and fitness guru has exploded across social media – becoming many people's favourite motivator. Often seen training in Dubai – in between cruising the city's streets in his fleet of 21 supercars, that is – Tate has just topped 1 million followers on Instagram, 105,000 on TikTok and has 463,000 subscribers across two YouTube channels to boot.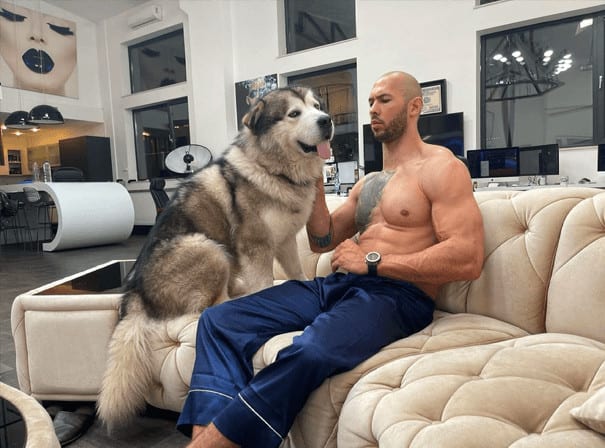 Andrew Tate's estimated net worth sits at a whopping $30 million, which he hasn't been shy of revealing to a host of famous podcasters, including James English and the crew from Fresh and Fit. In this article, we'll be taking a look at Tate's background, his martial arts success and where he trains. We're sure you'll want to know more about him after this one.
Andrew Tate
Born in Washington DC to parents of African-American and English descent, Tate, who also goes by the name of King Cobra, moved to England at the age of four and grew up in Luton, which is where he developed a passion for martial arts. Interestingly, his late father Emory Tate was an international master of chess – but it was a more high-octane lifestyle which attracted Andrew. Quickly establishing himself as a top-level fighter, he defeated former British champions Ollie Green and Mo Karbo before claiming his first belt while fighting for an ISKA English Light Cruiserweight title in 2009.
Buoyed by his success, Tate snatched his first British IKF title the same year, later stepping onto the international stage to become a four-time world champion. The first belt came in 2011, when three months after tasting defeat to Frenchman Jean-Luc Benoit, Tate took revenge in his hometown by knocking Benoit out in round 8 of 12. His name was solidified at the top of the sport just two years later when he overcame Vincent Petitjean across 12 rounds to claim his second world accolade, mounting a successful defence in 2014. Tate went on to win the Enfusion 90kg World Champion title against kickboxing veteran Wendell Roche, and following a four-year absence, returned to the sport in 2020. He's since called out YouTouber Jake Paul for a whopping $3 million, which is one I'm sure we'd all love to see happen.
The man behind the gloves
Although Tate and his brother chiefly reside in Romania, the polarising figure has dominated worldwide, hitting the headlines for his jet-setting lifestyle and business acumen. The 35-year-old spends a lot of time in Dubai, and the 6ft3in hustler has often been seen sparring and training at Marina Fitness 72 on his YouTube channel. The founder of Hustler's University 2.0 has also described Dubai as 'the city of the future', tipping the Gulf Tiger to continue to grow to astronomical levels. He's appeared on a host of famous podcasts, producing meme-worthy soundbites everywhere he goes. While he also runs two different YouTube channels, Tate Confidential and Tate Speech, creating regular content for both.
From his fighting background and years of persistent training, Tate has built an incredible physique – despite his tendency to enjoy the finer things in life. Work hard, play hard is definitely this man's mantra, which is perhaps typified by the fact he flew into the city to buy a £500,000 diamond watch. Or maybe the fact he owns a one-in-60 Bugatti Chiron Pur Sport, which received full customization from the manufacturer. So, if you're looking for an all-action fitness and lifestyle role model with a no-nonsense mindset and alpha mentality to push you to your goals, be sure to check out his social channels. It may just change your life.